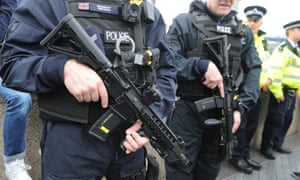 Britain's head of counter-terrorism policing, Mark Rowley, has said a radical change of strategy is needed to halt jihadi terror attacks because there is now a"completely different level" of danger.
"In nine weeks, we've had five plots foiled and three successful attacks. That is completely different to anything we have seen for a long time," said Rowley, the Metropolitan police assistant commissioner for specialist operations.
"As the prime minister has indicated, we're going to need to do some things differently. We're going to have to think again about the next iteration of our police and security service model, which has constantly had to innovate over many decades," Rowley said.
So what are the options? Do the security services and the police need to be given new powers or just extra resources to keep track of the 500 suspects under "active investigation" at any one time, the 3,000 "subjects of interest" on their radar or the wider pool of 20,000 people also known to MI5, the Manchester bomber, Salman Abedi, among them?
Control orders, Tpims, and tagging
Internment and indefinite detention: Keeping track of terror suspects who have not yet been convicted has been fraught with difficulty. In 2005, the courts ruled the Belmarsh regime of indefinite detention without charge or trial for a handful of foreign terror suspects post-9/11 was unlawful. Several calls for the reintroduction of internment – notably by Ukip – have been met with reminders that the last time it was tried in Northern Ireland it acted as a major recruitment boost for the paramilitaries.
Control orders: Introduced in 2005. Enabled the home secretary to order the house arrest of any terror suspect for up to 18 hours a day monitored by an electronic tag. A wide menu of other restrictions could be imposed including ordering a suspect to live elsewhere in Britain, vetting all visitors, restrictions on the use of phones and internet, bans on foreign travel, and other restrictions.
The supreme court ruled that 18-hour curfews were unlawful deprivation of liberty. There are never more than 16 control orders in force at any one time. Monitoring was a problem and two suspects on control orders went on the run. In one case it was several months before their absence was noticed.
Tpims: Terrorism, prevention and investigation measures. Introduced to replace control orders by the Tory-Lib Dem coalition. Also included tagging and overnight residence requirement but limited to fewer hours, with travel restricted to a specific area defined by the Home Office. Bans from meeting certain people and only a Home Office-approved list of people could visit at home. Limited to two years with emphasis on trying to secure prosecution in the meantime.
Tpims were "beefed up" when the Conservatives secured a majority in 2015. The key power of enforced relocation meant suspects could be required to move up to 200 miles away from their home city. They have proved of limited use to security services with fewer than 20 suspects on a Tpim at any one time and currently only 7.
Satellite tagging: Although long promised by ministers, introduction of satellite tagging has still not proved possible on a large scale for released prisoners, such as convicted paedophiles, because of major contractual problems. Unlikely to be ready for terror suspects.
Temporary exclusion orders: Introduced in 2015 to disrupt and control the return of British citizens who have been engaged in terrorism-related activity abroad, eg in Syria. Enforced through cancelling their passport and adding them to watchlists so they are denied boarding any aircraft. Although added to existing powers to block entry of foreign nationals to UK, the exclusion power has only been used once since it was introduced, suggesting the security services have sufficient other powers. Given that one of the three London Bridge bombers was stopped at Bologna airport on his way to Syria in March 2016 but released for lack of evidence, this could now be more widely used.
Increase pre-charge detention from 14 to 28 days: Already being quietly floated by ministers since London Bridge. Originally introduced in 2006 as a compromise in a debate over 90-day detention without charge opposed by the Conservatives. But was reduced from 28 days to 14 days in 2011 when May was home secretary. Used to allow the police to hold suspects and obtain evidence for use in criminal proceedings.
Punitive sentences for minor terrorist offences: May has proposed this as part of her four-point plan. Proposal is to introduce much longer sentences for minor offences such as drugs or tax evasion if it can be shown that they have a terror-link. It means suspects could be imprisoned for lengthy terms even if there is insufficient evidence to convict them for terrorist offences.
Investigatory Powers Act or "snooper's charter"
Targeted powers: The new legislation gives the security services, including GCHQ, sweeping new powers to keep track of the digital life of any named suspect online on a home secretary's warrant backed by judicial oversight. They allow them to hack their phones, computers and even use a suspect's camera or microphone in their smartphones to eavesdrop remotely on conversations. These warranted powers allow the security services and police to monitor the content of emails, texts, phone calls and real-time conversations.
One yet-to-be implemented set of measures in the act are technical capability orders that require the internet companies to bypass or alter encryption in the case of a named targeted suspect using encrypted services such as WhatsApp to communicate. Critics argue that once a back door is created to these encrypted services anyone, friend or foe, will be able to use them.
Mass surveillance powers: The snooper's charter also contain wide-ranging powers to require web and phone companies to retain records of everyone's web browsing histories and communications data records for phone calls and texts for two years, for access by the police and security services. A potentially powerful source of data to keep track of the online lives of jihadi terror suspects but requires intelligence-led searching and a retrieval system to avoid "losing a needle in a haystack".
Community policing and Prevent programme
Reverse cuts in police numbers to ensure a community beat presence that restores flow of local intelligence to special branch and security services. Would also enable security services to respond effectively to warnings from the community about suspect individuals, which has been identified as a factor in all three recent attacks.
Recasting the Prevent programme as an Engage programme to overcome its toxic reputation in some parts of the Muslim community. This could also ensure that individuals at risk of being drawn into terrorism are challenged and diverted.
Criminalise non-violent extremism online and in the real world
Forms main part of May's four-point programme. Pressing for new international agreements to ensure the web companies deny a platform to extremist propaganda on the web. Set up new commission to "monitor and expose" Trojan horse-style extremism and extremists in the public sector and wider society. The problem with both proposals is that there is no legally robust definition of "extremist" that would pass its first high court freedom of speech challenge.
May believes that if legal human rights obstacles can be overcome then the drive against non-violent extremism could include a "counter-entryism strategy" including bans on extremist groups, disruption orders against individuals and closure orders against premises used to host extremist meetings. Campaign to promote "superior British values".