MH17 downed by Russian military missile system, say investigators
International team say evidence shows missile came from a Russia-based unit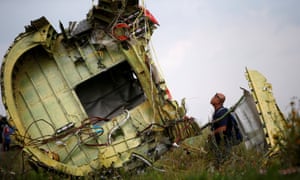 An international team of investigators say they have uncovered hard evidence that a Russian military missile system fired the missile that shot down flight MH17 over eastern Ukraine in 2014.
The Malaysia Airlines Boeing 777 was travelling from Amsterdam to Kuala Lumpur when it was shot down over the conflict zone in eastern Ukraine on 17 July 2014. All 298 people onboard were killed.
In 2016, investigators announced they had evidence that the BUK systeminvolved in the incident had crossed the border into eastern Ukraine from Russia and returned after the plane had been shot down.
The joint investigation team (JIT) looking into the incident is made up of Dutch prosecutors and police and others from Australia, Malaysia and Ukraine.
At a press conference in The Hague on Thursday, the investigators showed photo and video evidence that they said proved they had identified the specific BUK system responsible for shooting down the plane. They said they had "legal and convincing evidence which will stand in a courtroom" that the BUK system involved came from the 53rd anti-aircraft missile brigade based in Kursk, in western Russia.
For the first time, the investigators appeared to confirm that the Russian military was complicit in the downing of the plane, at the very least by providing the missile system used. Previously, the investigative website Bellingcat has pointed to involvement of the same brigadeusing open-source information.
Russian officials have denied all involvement in the incident, and Kremlin-linked media outlets have floated a range of implausible theories suggesting Ukraine was responsible for shooting down the plane. Russia has used its veto in the UN to prevent an international tribunal from being set up to determine guilt, meaning any eventual trial would be held in the Netherlands under Dutch law.
Fred Westerbeke, the chief prosecutor, said the investigation was in its last phase but could not say when he would be ready to file indictments. Two years ago, prosecutors said there were about 100 people under suspicion of direct or indirect involvement. On Thursday, Westerbeke said that number had come down to several dozen, but he declined to name them.
He said there was other evidence that would be kept secret until a court hearing began. "We don't want to tell everything we know because then we are opening our cards to the other side and we do not want to do that."
Investigators had asked Russian authorities for information about the 53rd brigade but had been ignored, said Westerbeke.
In a sign that some evidence is still missing, the JIT repeated a call for those with information about the incident to come forward, including information about the 53rd brigade, promising anonymity. No information was given as to whether investigators believed the BUK system was deployed as part of a Russian military mission.
Bellingcat said it would hold a press conference on Friday to present new findings on MH17.
Russia has repeatedly denied it was militarily active in eastern Ukraine, despite an overwhelming body of evidence to the contrary. In 2014, Russian troops and hardware were introduced at key moments to back pro-Russia separatists fighting against Ukrainian government troops.
In the weeks before MH17 was shot down, the separatists had shot down a number of Ukrainian military planes over east Ukraine.
This week a group of families of the MH17 victims wrote an open letter to the Russian people before the World Cup begins in Russia next month.
"We are painfully aware of the dark irony that the Russian leaders who will profess to welcome the world with open arms are those who are chiefly to blame for shattering our world," the letter says. "And that it is these same leaders who have persistently sought to hide the truth, and who have evaded responsibility ever since that dreadful day in July 2014."