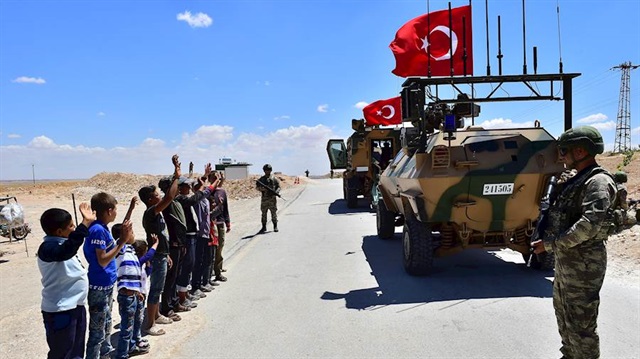 Turkish units are set to take control over the strategic residential district of Dadat, located 12 kilometers from the Manbij city center in northern Syria, after the Turkish Armed Forces (TAF) announced the start of patrols in the city following the withdrawal of terrorists from the Kurdistan Workers' Party (PKK)'s Syria affiliate, the YPG, within the scope of the Turkey- U.S. agreement.
After ensuring security over the Jarabulus- Manbij axis, Turkish forces are set to enter the Manbij city center.
According to military sources, the agreement must be extended to include regions east of the Euphrates River, such as Horozköy, the Qarakozak bridge area of Sirrin and the Tishreen Dam, a crucial source of water and electricity, all of which must be placed under Turkey's control.
In order to ensure security in Manbij and the Euphrates Shield region, the safe zone is expected to encapsulate the city's geographical borders.
The Turkish army on Monday announced the start of patrols in Manbij by both countries' troops in line with a previously agreed roadmap for eliminating terrorists and stabilizing the area.
In a tweet, the Turkish Armed Forces said that patrols were being carried out between Manbij and Turkey's Operation Euphrates Shield area.
The roadmap was first announced after a meeting on June 4 in Washington between Turkish Foreign Minister Mevlüt Çavuşoğlu and U.S. Secretary of State Mike Pompeo.
The deal focuses on the withdrawal of the PKK-affiliated YPG terror group from the northern Syrian city and stability in the region.
Should the model prove to be a success, Turkey will push for a similar arrangement in eastern Syria.
Turkey has said that the presence of terror forces near its border constitute a threat and has launched military operations and other efforts to rid the region of terrorists.
In its more than 30-year terror campaign against Turkey, the PKK has taken some 40,000 lives. The YPG/PYD is its Syrian branch.